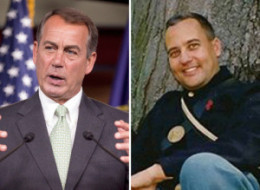 huffpost shows their idiocy (again)... it's called historic reenactment... and to show the history, everyone cannot dress as US troops...
i can't believe how sheep-like some of the comments have been... the DCCC doesn't even think to ask "why" was he wearing this?... apparently, if you wear a costume, you must subscibe to those beliefs... if you wear a Michael Vick jersey, you must support dog fighting... whatever you do, don't dress like a witch this Halloween, or you'll have to start attending Wican ceremonies!... heaven forbid you dress like a ghost in a sheet!
ridiculous, narrow-minded idiots.
Read the Article at HuffingtonPost